Rupert Murdoch, Private Eye
One Click needs your support. It's easy to assist us with either a one-off or monthly recurring donation.
Click HERE to donate. A donation of any amount is greatly appreciated and helps us to keep One Click running.
Scroll down the website to read much more news on One Click or go to the News Archives
SUMMARY
* Doctors Really Do Die Differently


Research Says That More Physicians Plan Ahead, Reject CPR, and Die In Peace.
In late 2011, I wrote an essay for Zócalo called "How Doctors Die." Drawing on my observations and experiences as a doctor, I reported that doctors tend to seek less end-of-life care than ordinary patients do. They know when further treatment is likely to be futile and when life would cease to be worth living. The point I wanted to make was that all of us should have the choice to die that way if we wish—at home, with family, without dramatic hospital interventions, without pain. The response to this simple idea was overwhelming. I read thousands of comments people posted online regarding the end-of-life care of loved ones. They told of near-dead relatives being assaulted with toxic drugs and painful procedures for no good reason. I am haunted by one description of a patient who could neither talk nor move, begging with her eyes for it all to stop.
Ken Murray MD, Nexus, Zocalo Public Square
Related Links:
* How Doctors Die - Not Like The Rest Of Us
Ken Murray MD, Nexus, Zocalo Public Square
* Whose Games? Occupy London to join Counter Olympic Network protest on Saturday


Occupy London will this Saturday 28 July join more than 40 groups protesting against the Olympics for the 'Whose Games? Whose City?' demonstration, organised by the Counter Olympics Network. "The Olympics are meant to be a celebration of human endeavour. However the 'people's games' in London are subject to the whims of global corporations and financial institutions who seek to 'legally' avoid tax and saturate sport with their own marketing in an attempt to sanitise their reputations, never mind limiting ticket availability and securing VIP lanes," commented Occupy London supporter Kate Morris. Assembling in Mile End Park in East London at noon, the Whose Games? Whose City? demonstration will march to Wennington Green for a family friendly event including speeches, entertainment, alternative games and children's events. [1] There is no intention to cause disruption to the Games. The government has reduced civil liberties - including the right to protest against the commodification of the Olympics and its effect on local communities.
Information Release, Occupy London
Related Links:
* The Olympics: A concerned events organiser speaks
The Slog - Evidenced bollocks deconstruction
* Daily Mail Tries To Blame Olympics 'Transport Chaos' On Mulsims
Political Scrapbook
* Custard and Punishment, Olympic Style
Big Brother Watch
* London 2012: Paralympian warns DLA cuts could 'jeopardise independence'
the Fed, centre for independent living

* Atos Hit By Undercover Filming plus Final Summer Price Cut


A few weeks ago, when the DWP tried to stop claimants seeing a useful employment and support allowance (ESA) appeals video, Benefits and Work readers helped make it the most popular video the ministry of justice has ever produced and spread it across the internet. Now, it seems, the DWP are trying to prevent claimants giving evidence about how fairly Atos and the DWP are treating them. This evidence is vital for millions of people because it will affect both ESA and disability living allowance (DLA) when it becomes personal independence payment (PIP). So, once again, we're asking for your help to stop the DWP getting away with it. In this edition we also ask who is lying about ending the right to have your ESA medical recorded? We also tell you about the two page letter you can copy and paste to give yourself the best chance of getting your audio-tape. Finally, there's news of two upcoming TV investigations into the work capability assessment (WCA), one of which includes undercover filming of Atos.
Steve Donnison, Benefits and Work

* Scientists: Chicken Vaccine Could Be Killer


Two virus strains used to vaccinate chickens against a deadly disease appear to be mutating into a single new virus that is sickening and killing birds on Australian farms, Science reports. Chickens worldwide are susceptible to a respiratory disease called infectious laryngotracheitis, which kills one in five infected birds. To combat the illness, farmers vaccinate chickens with strains of the virus. In Australia, there are two vaccines that are widely used, one of which was introduced from Europe in 2006. Two years after the new vaccine came into play, new strains of the deadly disease began to surface in Australian chickens. Scientists studying the situation say the new vaccine seems to be combining with the old one and mutating into a disease-causing form. "This shows that recombination of such strains can happen and people need to think about it," Glenn Browning, an Australian veterinary microbiologist, told Science in an interview.
Brittany Lyte, REVMODO
Related Links:
* Post vaccine, pigs experience severe disease
Meryl Nass, MD
* Vaccines on Chicken Farms Create Super Virus
Tom Philpott, Mother Jones
* Mumps vaccine: Merck lied, falsified test results and data


Merck has known for a decade that its mumps vaccine is "far less effective" than it tells the government, and it falsified test results and sold millions of doses of "questionable efficacy," flooding and monopolizing the market, a primary caregiver claims in a federal antitrust class action. Alabama-based Chatom Primary Care sued Merck on Monday, the week after the unsealing of a False Claims Act complaint two relators filed in 2010. Those relators, Stephen Krahling and Joan Wlochowski, were Merck virologists who claim in their unsealed complaint that they "witnessed firsthand the improper testing and data falsification in which Merck engaged to artificially inflate the vaccine's efficacy findings." Krahling and Wlochowski claimed Merck's scheme caused the United States to pay "hundreds of millions of dollars for a vaccine that does not provide adequate immunization."
Reuben Kramer, Courthouse News Service
* The Olympics: A concerned events organiser speaks


Lisa Simpson gives Bart a blow job:
official London Olympics logo
Danny Stapleton is high up in a large multinational events provider. Being in charge of the British operation, he wants the London Olympics to succeed. Why is Danny worried? "Coe is in denial. Locog is all over the place. Boris Johnson is a good figurehead but he's interfering ineffectually. Last trains home, coach routes for airport pickups, security lapses, and piss-poor supplier choices: this is all Page One stuff these part-timers are getting wrong. It really isn't looking good." Hmm. The man allegedly in charge of Trade & Investment spin-off from the event appears to have some experience in money-laundering and tax evasion, but has never worked an event for trade purposes in his life. This of course is Lord Green, former sensorily challenged CEO and Chairman of HSBC.
The Slog - Evidenced bollocks deconstruction
Related Links:
* Daily Mail Tries To Blame Olympics 'Transport Chaos' On Mulsims
Political Scrapbook
* Custard and Punishment, Olympic Style
Big Brother Watch
* London 2012: Paralympian warns DLA cuts could 'jeopardise independence'
the Fed, centre for independent living

* Post vaccine, pigs experience severe disease


Meryl Nass, MD
Veterinary Pathology shows that after vaccination, pigs experience much more severe disease when exposed to swine flu virus. As has been noted previously, vaccination is a black art, basically a trial and error process of discovery, which has the potential to either prevent or enhance disease, and therefore must be studied carefully before vaccines are administered to large populations, despite issues of expediency. Vet Pathol. 2012 Mar 28: These data suggest H1 inactivated vaccines followed by heterologous challenge resulted in potentiated clinical signs and enhanced pulmonary lesions and correlated with an elevated proinflammatory cytokine response in the lung. The lung pathology and host immune response is consistent with the vaccine-associated enhanced respiratory disease (VAERD) clinical outcome observed reproducibly in our swine model.
Meryl Nass, MD
Related Links:
* Vaccines on Chicken Farms Create Super Virus
Tom Philpott, Mother Jones

* Italian Health Ministry concedes MMR vaccine caused autism


The controversial row surroundings alleged links between the measles, mumps and rubella (MMR) vaccine and autism is set to be reignited following a court ruling in Italy. Judges in Rimini, north-east Italy awarded the Bocca family Euros 174,000 (£140,000) after the Italian Health Ministry conceded the MMR vaccine caused autism in their nine-year-old son Valentino. Up to 100 similar cases are now being examined by Italian lawyers and experts suggest the case could lead to other families pursuing cases. Luca Ventaloro the family lawyer, said yesterday: "This is very significant for Britain which uses, and has used, an MMR vaccine with the same components as the one given to Valentino. It is wrong for governments and their health authorities to exert strong pressure on parents to take children for the MMR jab while ignoring that this vaccine can cause autism and linked conditions." The number of autism cases has risen sharply since the 1970s, with one in 64 British children affected.
Paul Bignell, The Independent

* Easier to sell than hot dogs: the human tissue industry revealed


Nipped and tucked. The human tissue trade is highly lucrative.
An eight-month international investigation has revealed that human tissue has been lifted, pulled and scraped from the dead without consent and used in surgical procedures in the West. The four-part series 'Skin and Bone: The Shadowy Trade in Human Body Parts' is a detailed investigation by the International Consortium of Investigative Journalists (ICJC) across 11 countries. The investigations revealed a growing trade in human body parts, sometimes without the knowledge of the deceased's family and often without systematic verification of the tissue's origins or its health. The dead, it seems, have in some cases been stripped of body parts that can be reused for surgical procedures including breast enhancements, spinal reconstructions and post-burn skin grafts. The USA is the biggest market for and supplier of human tissue.
Will Fitzgibbon, The Bureau Of Investigative Journalism

* How Research into Chronic Fatigue Syndrome Turned into an Ugly Fight


Judy A. Mikovits, Ph.D., outside the Whittemore Peterson Institute for Neuro-Immune Disease in Reno, Nev., on Feb. 28, 2011.
Mikovits is the facilities research director. (David Calvert / AP Photo)
How did a star researcher into the medical mystery of chronic fatigue syndrome end up in jail and unemployed? For the first time, Judy Mikovits tells her story. For a person who's just been through a year of legal woes, she's upbeat and garrulous. And after more than six months of following strict orders from her legal team not to comment on the charges against her, she is ready to talk.
Casey Schwartz, The Daily Beast
Related Links:
* The WPI Loses UK Study Blood Sample and Consent Form
Khaly, CFS Untied
* Fallout From Fatigue Syndrome Retraction Is Wide
David Tuller, The New York Times
* Chronic fatigue syndrome scientist finds a temporary home
Nature News Blog
* Chronic fatigue syndrome researcher Judy Mikovits arrested
Retraction Watch

* Recording medicals chaos plus Atos try to get on Benefits & Work forum


In this edition we investigate whether the recording of medicals has been killed off, as claimants are told they no longer have the right to one. We also reveal how Atos hired an expensive public relations company to try to get onto the Benefits and Work forum. Plus we have an update on the employment and support allowance (ESA) appeals video that the government still can't kill. Oh . . . and we explain why some Benefits and Work members are getting their kit off.
Steve Donnison, Benefits and Work
* National Vaccine Policy comes in for severe criticism from experts


The National Vaccine Policy, announced by the Union health ministry last year, has come in for severe criticism from experts. They have termed that the government has fallen trap to the same 'global' slogans of the World Bank that has pushed the world into recession and the aid politics of Gates Foundation, WHO and Global Alliance for Vaccines and Immunization (GAVI).In an article in 'Current Science', Dr N Raghuram, associate professor, School of Biotechnology, GGS Indraprastha University, New Delhi and Dr Y Madhavi, NISTADS, Pusa, New Delhi have said that the government policy pays lip service to several important issues such as criteria for new vaccine introduction into UIP, including the Grades of Recommendation Assessment, Development and Evaluation (GRADE) system, strengthening the surveillance of Vaccine Preventable Diseases (VPD) and Adverse Events Following Immunization (AEFI), operational efficiency, etc. "Clearly, this vaccine policy is not designed to enhance national public capacities for public immunization programmes, but to justify spending public money on privately produced vaccines in the name of protection from diseases, whose incidence figures and public health statistics are dubious and industry-manufactured. In its eagerness to push vaccines, this policy completely missed the very idea of selective immunization and implies that all immunization is universal," the article says.
Ramesh Shankar, Pharmabiz
Related Links:
* India Serves Up Deadly Vaccines Cocktail
Ranjit Devraj, IPS
* Polio programme: let us declare victory and move on
(FULL TEXT)
Neetu Vashisht & Jacob Puliyel, Indian Journal of Medical Ethics
* Open letter to DG, WHO - Pentavalent vaccine related deaths
All India Drug Action Network (AIDAN)
* GAVI funding fatal polio vaccines
Shahbaz Rana, International Herald Tribune

* Daughter's illness linked to Gardasil vaccine


Jessica Lock, 13, and her mother Shelley at their Aberfoyle Park home.
Two months ago, Jessica Lock was a typical 13-year-old - outgoing, healthy and happy. Yet now she is a stranger in her own home, racked by an array of mysterious ailments. A week after being administered in February with the anti-cervical cancer vaccine Gardasil at her school, the teenager began fainting and experiencing strong head pains - and her parents say she has lapsed into a semi-permanent, child-like state. Mother Shelley Lock believes her daughter suffered a severe reaction to Gardasil but said public hospital staff had been unwilling to examine a link, with one doctor inferring Jessica's condition was psychosomatic. "It is frustrating because she was completely healthy before this, she had no stress, had just started Year 8 and was meeting new friends, has a good family, so to have it inferred that it was just stress or psychological was very frustrating," Mrs Lock said. Exhaustive tests ruled out other potential causes such as brain tumours. However, Jessica's condition continued to deteriorate.
Andrew Dowdell, Adelaide Now
Related Links:
* Gardasil Vaccine Warnings Ignored Says Researcher
Julie Smith, Scoop Independent News, New Zealand
* Gardasil®: The HPV Vaccine
Judy Wilyman, PhD Candidate, Murdoch University

* Here Comes OpenLeaks: How It Won't Be WikiLeaks


Daniel Domscheit-Berg
Almost exactly a year ago I spoke via email with ex-WikiLeaks spokesman Daniel Domscheit-Berg. He and the four or five others who'd defected from WikiLeaks in September of 2010 were already at work on OpenLeaks, a successor organization with the same basic goal: to maintain a secure platform where sensitive documents of interest to the public can be uploaded by whistleblowers and anonymously distributed to the press. I was able to meet and speak at length with Daniel, and learned a ton about OpenLeaks and the future of whistleblowing. Domscheit-Berg's presentation on the second day of the conference was mobbed, and the audience was focused, attentive and respectful. This makes quite a change from his circumstances eighteen months ago; when he left WikiLeaks, he was almost instantly pilloried in the media and in the hacker community, owing in large part to the high regard in which Julian Assange, the original founder of WikiLeaks, was held at that time. But what if the "former employee" had very good reasons for being disgruntled? To my mind, the real upshot of the Cablegate debacle was that it put paid to the likelihood of anyone's sharing so much as the contents of a fortune cookie with Julian Assange ever again. Now OpenLeaks is just about ready to launch.
Maria Bustillos, The Awl

* BRING A TENT - Occupy London strikes back - 12 May


12 May, global day of action, 1pm, St Paul's Cathedral. Bring a tent. The 'Map of the 1%' by Occupy London will be available on the day. A draft list can be found here. On 12 May, the Occupy, indignados and take the squares movements all over the world have called for a global day of action. In London we'll be visiting the '1%', those who: gambled with our pensions and savings, created financial nonsense to make money out of thin air, brought the global economy to the brink of ruin and forced ordinary people to pay for their mess, paid hundreds of thousands to wine and dine with our 'elected' representatives, have taken more than £1tn in bailouts from the taxpayer and continue to pay themselves exorbitant bonuses, evaded billions in taxes, are benefiting by the crisis by grabbing fat privatisation contracts of our public services. The day will see citizens using peaceful, creative ways to deliver their own messages to the financial and corporate elite of the City. We will continue to exercise our right to peacefully assemble in public spaces and develop the democratic processes to address the problems we face. Important: To receive free notifications on the day via sms text `follow @occupymay`to 86444. (Do not include the quotation marks`).
Information Release, Occupy London

* Security Guards Short-Listed For DLA To PIP Medical Contracts


In this edition we have news that international security companies are fighting for the chance to do your disability living allowance (DLA) to personal independence payment (PIP) medical and win a share of a billion pound pot. We can also reveal the outrageous lack of digital tape machines for recording employment and support (ESA) medicals and we learn what IDS really thinks of Remploy workers. PIP is due to begin replacing DLA for working age claimants from spring next year, with all current DLA claimants having to be reassessed for the new benefit. The contracts for PIP medicals are worth up to a billion pounds in total and have attracted the attention of many multinational companies. Many thanks to everyone who has sent in news stories over the last fortnight, including: Beverley Hymers, John Pring, Jim Allison, papasmurf, Crazydiamond.
Steve Donnison, Benefits and Work

* Welfare Reform Bill Scandal


As the utterly callous ConDem government forces the disabled and disadvantaged in Britain to pay for the mistakes of the politicians and bankers, human death and destruction follows the progression of the Welfare Reform Bill. From writer Paul Reekie driven to suicide, ghastly errors made by Atos to Britons on the breadline, the consequences of having price-of-milk ignorant posh boys running the country into the ground mount daily.
Information Release, The One Click Group

* Crowd-funding legal actions (Metropolitan Police)


Wow. A lot of people want to see the Met police in court. I had an unpleasant surprise on Wednesday night that my legal excess bill was not small change. (The rest is covered by legal aid, but this bit is non-negotiable) and I need to pay £550 before the end of the month. Sarah J from the Bad Reputation suggested crowd funding, so I put together a Facebook group called 'I'll Give Hannah a Tenner to see the Met in Court'. I was looking for 55 people to pledge a tenner, which would be refunded (as all my legal fees would be) if I win – but if I lose the case then, sorry, thank you for your charity. It went to a good cause. I made a group with this copy: Hannah was arrested, handcuffed and held in a police station on the day of the royal wedding because she was dressed like a zombie (for a flashmob) which police had decided was an anti-royalist statement. She hadn't broken any laws and was in a Starbucks, queuing to buy a coffee at the time. She and fourteen others arrested pre-emptively (i.e. illegally) have won the right to a Judicial Review. However, even with legal aid she's got a few costs that can't be shirked. She's looking for 55 people to donate a tenner – which will be refunded if she wins the case. And I tweeted and Facebooked it – as did my friends. I was expecting some friends to support it, and maybe even a couple of activists with… ahem… history with the Met. I was thinking even half the costs would be a huge help. You, good people, did not disappoint. Within 24 hours I had more money pledged than I was asking for. Thank you so much, you have no idea. It's a huge help financially, obviously – it's also hugely heartening and touching that so many people want to help so much. From the bottom of my heart, thank you everyone.
Hannah 'Chutzpah' Eiseman-Renyard, Firing from a Double-Barrel

* ME is comparable to AIDS, so why do so many people still deny it ...


Like millions of others, I have seen M.E. through the eyes of the medical establishment, the Government and the Media. The picture has not been good. Here is what I have previously understood about M.E. and those who have it. M.E. sufferers are workshy malingerers. They whine, constantly, about feeling tired. They are annoying sympathy seekers. Oh, and mostly, importantly, M.E. is 'all in the head' and can be overcome with a bit more determination and a little less of the 'poor me' attitude. That, generally, is what I thought about M.E. Until, that is, a reader sent me a DVD of a British-made film about the illness titled 'Voices From The Shadows'. So, for M.E. Awareness Week, let us be clear. M.E. is comparable to AIDS and cancer and all the other vicious and uncompromising diseases that savage the body and, in some extreme cases, kill it completely. The fact that it is still so widely misunderstood is a modern day travesty that must be addressed without further delay. Or is it convenient that we still view M.E. as being 'all in the mind'? I believe that we, as a nation, deserve to know the truth. Not only for those still battling the disease, but for those poor souls who have already been lost to it.
Sonia Poulton, Daily Mail
Related Links:
The ME/CFS Canadian Guidelines
Dr Bruce Carruthers et al

* Demand the right to know what you are eating


Unfortunately, genetically modified organisms (GMOs) are currently in many of our staple foods such as soybeans, corn, and sugar beets. Therefore, the foods you are presently buying at your local grocery store do contain genetically engineered ingredients. A genetically modified organism is an organism whose genetic material has been altered using genetic engineering techniques. The genetic material from one species is taken and then inserted into the permanent genetic code of another. These techniques, generally known as recombinant DNA technology, use DNA molecules from different sources, which are combined into one molecule to create a new set of genes. The safety of humans, animals, and our environment are threatened by this untested manipulation of foods produced for consumption and contaminating our food supply and environment. There have been many studies showing the harm that genetically modified organisms can cause, such as cancer, allergies, impaired DNA function, and accumulated toxins, to humans and animals. Consumers have the right to be fully informed about the foods and drinks they consume. Demand full disclosure of all food products sold in America. Put pressure on the U.S. FDA to require mandatory labeling domestically and to represent U.S. consumers' wishes at Codex by correcting FDA's position and ending its close alignment with industry groups.
Cheri Tips, News Release, National Health Federation
* Government promotes companies set to profit from disability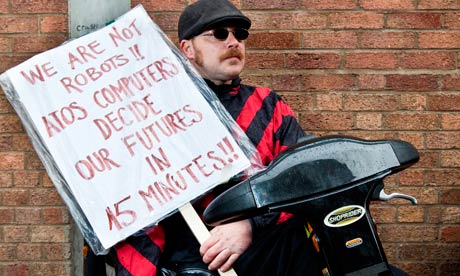 Atos has been shortlisted for the PIP contract, despite being criticised for its handling of work capability assessments.
The Department for Work and Pensions has just announced the 10 private companies on the shortlist to deliver the personal independence payment (PIP) assessments, which everyone receiving disability living allowance will have to undergo from next year when DLA is replaced by PIPs. With 3.2 million captive customers, not to mention a monopoly on all new claimants, it's not hard to see the appeal of the contract for profit-hungry companies untroubled by the ethics of slashing 20% from the money provided to disabled people to help them meet some of the basic expenses that living with a disability inevitably incurs. Take Atos, for example, the French multinational, responsible for handling the deeply flawed work capability assessments. Despite huge levels of criticism from individuals and charities that the test is not "fit for purpose", widespread inaccuracies in the assessment process (40% of appeals against Atos decisions are successful), and extensive anecdotal reports of farcical levels of incompetence on the part of the assessors, the DWP has shortlisted Atos for the contract to deliver PIP assessments in every available region. And then there's the outsourcing giant, Serco, excluded from the Norwegian government's investment portfolio because of its involvement in nuclear arms. Serco is shortlisted by the British government to provide "independent" assessments of disabled people. Personally, I'd very much rather my contributions went towards supporting some of the poorest and most vulnerable people in society than into the coffers of companies such as these.
Clare Allan, The Guardian
Related Links:
* The sick cost of cuts to benefits
Tricia Phillips, Mirror
* Backlash against benefits 'shame'
Ilkeston Advertiser
* Grimsby man told he is fit to work despite blood clots, septicaemia and ulcers
Grimsby Telegraph

* Murdoch not fit to run an international company


It's been 10 years, 1 month and nine days since the News of the World hacked Milly Dowler's phone. Five days ago Rupert Murdoch admitted there was a cover up at News Corporation. We found that News Corporation carried out an extensive cover-up of its rampant lawbreaking. It's most senior executives repeatedly misled Parliament and the two men at the top, Rupert and James Murdoch – who were in charge of the company – must now answer for that. In the view of the majority of committee members Rupert Murdoch is not fit to run and international company like BSkyB. I'm disappointed that some members didn't feel sufficiently convinced or confident to hold the most powerful to account. It is my personal view that we should embark on an investigation into the relationship between ministers, special advisers and lobbyists working for News International and BSkyB. They brought shame on our police force and our Parliament. One Click Note: Tom Watson says that the media has brought shame on our police force as if it is no fault of their own, that when the police were bribed they simply couldn't help themselves despite having taken an oath to uphold the law. Such bollox. The electorate will never wear it. Although Murdoch's activities are being meticulously exposed, the Establishment is deluded if it believes that hanging Murdoch companies out to dry will be sufficient to douse what all the rest of the media and those in public office have been up to for years. WHY are the Motorman files not being placed in the public domain? This is the Establishment cover-up scandal that refuses to die.
Tom Watson MP
Related Links:
* Malignant British police force must be held to account
Ellie Mae O'Hagan, New Statesman
* Rebekah Brooks becomes principal "sacrificial scalp" but far worse is coming with Operation Motorman
Simon Tomlin, News Alliance UK
* Motorman: Britain's biggest establishment cover-up
Information Release, Guido Fawkes
* Operation Motorman Blue Book (download)
Information Release
* Operation Motorman, the corrrupt establishment story that will not go away
Inforrm's Blog
* Britain's corrupt police are at war with the people
David Gilbertson, The Guardian
* Leveson must publish the Motorman Files
Hacked Off press release
* Police corruption, Murdoch and the Leveson Inquiry
The One Click Group

* Britain's Tory Party government still terrified of Murdoch


Well, well, well. The Commons Select Committee on Culture, Media and Sport has issued its report on phone-hacking and it's very critical of the Digger. But guess what? The MPs on the Committee are divided, with the Tories balking at attacking the Sun King. The Guardian has a lovely infographic which nicely captures the extent of their terror.
John Naughton, Memex 1.1
Related Links:
* Tom Watson smacks down Guido Fawkes
Sunny Hundal, Liberal Conspiracy

* Investment Banks & Financial Maths


Investment bankers are to blame for the credit crunch that has beggared nations, but what about financial mathematicians? As the result of the credit crunch, most workers in the UK are watching their real incomes fall and their pension rights eroded. Those out of work have little prospect of finding a job in the foreseeable future. There is a big squeeze in expenditure on education, health, welfare, and almost every essential service we have come to expect the state to provide. Worst of all, young people finishing their education are finding it very hard to get started in the jobs market. By the end of the first quarter in 2012, UK is back in recession. Meanwhile, the bankers largely responsible for what has happened, and who would be out of business if the taxpayers hadn't handed over £90 billion to bail them out continue to draw huge salaries with bonuses on top. Why should those who are the most responsible for the financial disaster continue to see their standard of living rise year by year when the rest of us get poorer and poorer? Ever since the deregulation "Big Bang" of 1986, the UK economy has become more and more dependent on financial services. Successive governments have talked about promoting industry but it has been the City that got what it wanted, including the "light touch" regulation that encouraged the bubble to expand so dangerously. However much the doyens of financial mathematics like to absolve themselves from blame, they bear major responsibility for providing the tools that enable one group of people (themselves included) to get prodigiously rich and beggar the rest of society. It is time for aspiring mathematicians to wake up and consider their social responsibility and ideals as well as the beauty of mathematics. If financial bankers are losing their jobs, there certainly are not going to be many more jobs in financial mathematics either.
Prof. Peter Saunders and Dr. Mae-Wan Ho, Institute of Science in Society
END SUMMARY